Game Downloads
You're located in category:
Tigers in the Snow
Review 1:

The first PC game made by SSI made in 1981! The game takes place at Bulge, at the time of the famous battle of WWII. You control either Axis or Allied troops and, of course, have to beat the other one.

The game is made in basic and lacks great graphics and sound. Still, since the game was made so long ago it is great to see it has any graphics at all! The controls are a bit fuzzy, but the game itself ain't that bad.

Review 2:

SSI's first game for the PC was "... an operational simulation of the Battle of the Bulge, its most serious problem was a user interface which refused to allow the player to access his units. Instead, the order of battle was cycled through three times, and pity the gamer who did not input his orders by the third time -- primitive graphics, primitive play mechanics and a poor user interface."
Download full game now: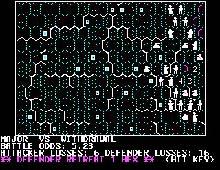 Tigers in the Snow screenshot
People who downloaded this game have also downloaded:
Third Reich, Typhoon of Steel, Panzer General for Windows 95, Shiloh: Grant's Trial in The West, Wargame Construction Set