Game Downloads
You're located in category:
Wargame Construction Set
Review 1:

A nice classic from SSI. This is the first volume in the famous wargame series where you can build your own scenarios and play them. You can of course also play pre-made scenarios which are included.

The graphics aren't that good, but it doesn't matter that much as the controls are really good and very simple. I suggest you use Moslo (which you can get from this site as well) as the game runs a bit too fast for modern computers.

Review 2:

A design-your-own simulation covering warfare from a tactical level throughout history. Marred by a system more attuned to World War II tactics than to a generic battle system, it was quite popular in its day. Basically the user-modifiable source code of Roger Damon's previous works, the game's potential to design-your-own scenarios was limited by the failings of the system's mechanics. It was most applicable to the World War II era; a novice may well find its flexibility interesting, although the graphics are dated.
Download full game now: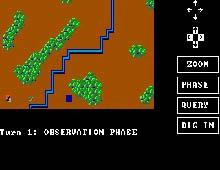 Wargame Construction Set screenshot
People who downloaded this game have also downloaded:
Wargame Construction Set 2, Wargame Construction Set 3, Warhammer Epic 40000: Final Liberation, Warhammer: Dark Omen, World at War Series (a.k.a. Operation Crusader, Stalingrad,