Game Downloads
You're located in category:
Wargame Construction Set 2
Review 1:

A nice classic from SSI. This is the second volume in the famous wargame series where you can build your own scenarios and play them. You can of course also play pre-made scenarios which are included.

The graphics are much better than in volume 1, and when the controls are really good and very simple this is a really good wargame if you like these kinds. I suggest you use Moslo (which you can get from this site as well) as the game runs a bit too fast for modern computers.

Review 2:

M. Evan. Brooks was reserved in his review: "Armored warfare from 1918 to the near-future, this product possessed a plethora of scenarios (and more which popped up on the Internet); while relatively successful, I found it somewhat sterile." Still, the appeal of the game rests not on its spotty AI and, as Brooks, comments, "sterile" gameplay, but rather on the versatile scenario editor that allows players to create virtually unlimited scenarios.
Download full game now: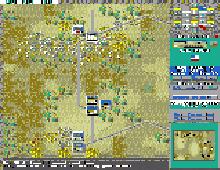 Wargame Construction Set 2 screenshot
People who downloaded this game have also downloaded:
Wargame Construction Set 3, Wargame Construction Set, World at War Series (a.k.a. Operation Crusader, Stalingrad,, Settlers II Gold Edition, The, Warhammer: Dark Omen