Game Downloads
You're located in category:
Solitaire Royale
Excellent solitaire game with high historical value. In the designer?s own words at MobyGames: Solitaire Royale is ?...the first commercial instance of Card Solitaire on the PC and Macintosh. There are 8 different solitaire games, an "Aunt Anne's Tour" where you play all 8 in row, trying for the highest score, and 3 children's games. In addition, there are 10 different choices for deck art.?

Solitaire Royale is a solid card game that has very high production value, as evident from both 16-color EGA graphics and mouse support ? something rarely found in a 1987 game. The user interface is top-notch: you can quickly jump from one solitaire game to the next by using the top menu bar, or peruse well-written solitaire rules or help on game mechanics. The games included range from the familiar (Klondike, Canfield, Pyramid, and Golf) to the more obscure (Corners, Calculation, Three Shuffles and a Draw, and Reno). The ?tour? option and children?s games are excellent value-added options, although they are not as full-fledged as QQP?s later classic Solitaire?s Journey. Overall, it?s the first commercial solitaire game that also ranks among the best. Highly recommended!
Download full game now: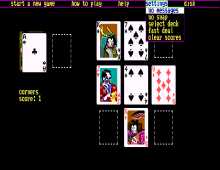 Solitaire Royale screenshot
People who downloaded this game have also downloaded:
Solitaire Deluxe, Solitaire's Journey, Solitude for Windows, Pizza Tycoon, Settlers II Gold Edition, The