Game Downloads
You're located in category:
Solitaire Deluxe
Solitaire Deluxe is a greatly updated version of Solitaire Royale. Designed for Windows 95 and above, this solitaire collection contains 24 different games, ranging from popular games such as Golf and Klondike, to lesser-known games such as Calculation, Forty Thieves, Four Corners, Draw, and Upside-Down Pyramid. Released on CD-ROM, the game offers excellent bells & whistles, including 24 different decks and backgrounds. In addition, the game boasts a high degree of customizability: you can change rules of most games to your liking, and even install add-on modules (none released, unfortunately) to add in more games and graphics.

One of the best features of the game is the "Tour" option. By selecting a pre-made tour or creating your own, you play through a series of different solitaire games, and get a final score at the end based on how well you did in each game. This is not as extensive or creative as the "Quest" feature in QQP's classic Solitaire's Journey, but it is not bad.

Other options the game includes are standard, but comprehensive. You can save or restart your game at any time. Some games have an auto-finish feature, useful for when there is only one route to the endgame, and you don't want to bother doing it on your own. You can also toggle between different scoring methods, and play games under a time constraint for more challenge.

Overall, Solitaire Deluxe is a good-looking, solid solitaire collection that should please all solitaire players. It does not offer much "bang for the buck" compared to QQP's classic, but 24 games plus dozens of possible variants should more than merit a permanent space on your hard drive. Highly recommended!
Download full game now: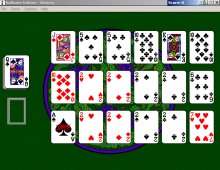 Solitaire Deluxe screenshot
People who downloaded this game have also downloaded:
Solitaire's Journey, Solitaire Royale, Settlers II Gold Edition, The, Solitude for Windows, Scrabble for Windows