Game Downloads
You're located in category:
Solitude for Windows
Solitude for Windows is a superb freeware collection of 91 solitaire card games for Windows 95/98/NT. The games include many familiar favorites like Klondike, Yukon, and Poker Solitaire. But the highlights are modern or rare solitaire games that are rarely found in most solitaire programs, including the excellent version of Bowling Solitaire - a bowling-like solitaire game invented by Sid Sackson and described in his book "A Gamut of Games." Other notable new solitaire inventions or rare versions implemented in Solitude include Icicles, Tam O' Shanter, Black Hole, Carpet, Moojub, Sultan, and Windmill. In addition, the game includes three new card games invented by the designer. My favorite of these is Four Kingdoms, which uses cards to represent various elements in a fantasy kingdom in an interesting way.

With so many new or rarely documented solitaire games, Solitude is a must-have for every solitaire fan. A nice user interface and concise Windows help file that explains the rules of every game nicely round out this cool game.
Download full game now: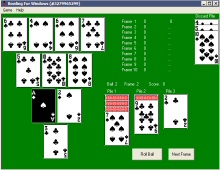 Solitude for Windows screenshot
People who downloaded this game have also downloaded:
Solitaire Deluxe, Solitaire's Journey, Settlers II Gold Edition, The, Solitaire Royale