Game Downloads
You're located in category:
Scrabble for Windows
Scrabble for Windows is a great Windows 3.1 update of previous Scrabble games that Mastertronic (which later was acquired by Virgin and became "Virgin Mastertronic" label) had been developing since 1987 under license from Hasbro, before Hasbro finally decided to develop their own PC versions starting from 1999.

This is definitely the best Scrabble game until Hasbro's 1999 release. Two to four players, any of which can be computer-controlled, compete in this classic word board game. For its time, the AI in Scrabble for Windows is quite competent, and the game offers a lot of options that extend the game beyond its basic premise. There is a built-in anagram solver and a good concise on-line dictionary. There are 9 skill levels of the AI you can choose from. You can even change details like telling the game to center tiles for you, disallow 2-letter words, and see other players' racks. All in all, a very polished and highly playable Scrabble game that will keep fans entertained for many games to come. Highly recommended.
Download full game now: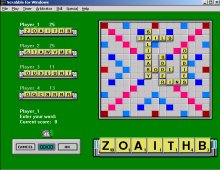 Scrabble for Windows screenshot
People who downloaded this game have also downloaded:
Scrabble: Deluxe Edition, Railroad Tycoon Deluxe, Settlers II Gold Edition, The, Stratego, Monopoly Tycoon