Game Downloads
You're located in category:
Rorke's Drift
Review 1:

One of my all time favorite games ever made for the Amiga. Of course it was also made as a PC version, which don't feature as good graphics as the Amiga version. You control the British army and your only mission is to defend Rorke's Drift which was a very important fortress for the British army (Rorke's Drift is in Africa).

You have around 200 soldiers and your weapons consist of rifles and pistols. You are up against the almost unbeatable enemy - more than 40.000 Zulu warriors. Lucky for they are only equipped with spears and shields. The original battle which took place ended with a British slaughter with only very few British soldiers surviving. Let's see if you can change the story. Some of the good things are when you have killed 2.000 Zulus there are still more than 30.000 left - which makes this game a large slaughter (can't help it).

With the fortress having a medical department and the different buildings included are great as well. The only bad thing in the game is that the game takes forever to complete. But when you start the game you will pretty quick get an overview to see whether you stand a chance. Overall a very good game with many good features.

Review 2:

Rorke's Drift was the first game in Impressions' little-known "Micro Miniature" series of games that are based on the same engine. Although it is a worthy attempt to portray the little-known battle of the Anglo-Zulu War, it failed to capture anyone's interest due to very poor user interface, shallow gameplay, and horrendous AI. Good perhaps as a historical lesson in how not to design a wargame, but little else. If you want a good game about the Zulu War, play ISI's Zulu War instead. Fortunately, the updated 1993 version slated for release in the U.S. was never out.
Download full game now: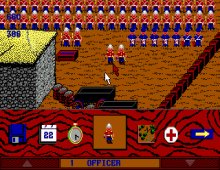 Rorke's Drift screenshot
People who downloaded this game have also downloaded:
Rommel: Battle for North Africa, Pacific General, No Greater Glory, Sons of Liberty, Third Reich