Game Downloads
You're located in category:
Robot Rascals
Review 1:

From Brian Moriarty's tribute to Dani Bunten: "Heart of Africa was to be the last product Ozark ever designed for a single user. In fact, their next design took the multiplayer option to a provocative new extreme. Not only did Robot Rascals have no single-player mode, it actually required the participation of no less than four human players. Daringly billed as a "family game," this peculiar fusion of turn-based action and strategy, augmented by a deck of real playing cards, received a polite but puzzled critical reception, and was carefully ignored by everybody else." And that ignorance is a shame, because Robot Rascals is one of the most original and few computer games ever designed with a board game style, and it's much more balanced and fun than Infocom's Fooblitzky. Remember to download card scans to play with the game :)

Review 2:

Don't know exactly what to do in this game. You can drive with a robot across some plane. It is turnbased and playable upto 4 players.
Download full game now: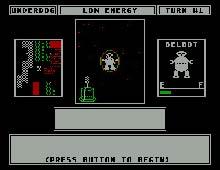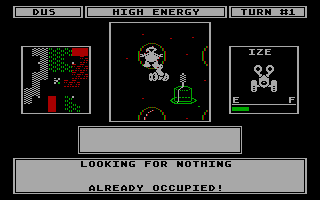 Robot Rascals screenshots
People who downloaded this game have also downloaded:
President Election, Rebel Charge at Chickamauga, Red Lighting, Renegade: Legion Interceptor, Rival Realms