Game Downloads
You're located in category:
President Election
Review 1:

In President Election you will have to run for President. This is the only game where this has been the goal in the game and I consider this game very unique because of this. You will of course have to decide on many different things regarding running a campaign like this.

Of course President Election also includes some famous names, all though not all names are actually for the real persons who was once running for president. The interface is not very nice to look at, but once you learn how the game works it's pretty easy to play around with.

Review 2:

President Elect puts you in control of any US presidential campaign between 1960 - 1988, in either historical or ahistorical mode. The game is turn-based, and you must allocate "political action points" (PAP) for various actions. Harking perhaps to real politics, you allocate the percentages of time to spend on critizing your rival and dodging questions in a national debate-- without ever needing to state your platform An arguably "realistic" sim in this way.
Download full game now: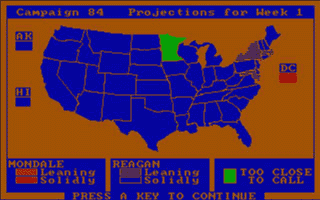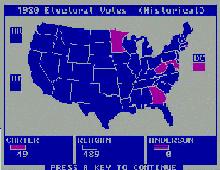 President Election screenshots
People who downloaded this game have also downloaded:
Pizza Tycoon, Populous 2, Revolution '76, Railroad Tycoon Deluxe