Game Downloads
You're located in category:
Rings of Medusa 2 (a.k.a. Return of Medusa)
Yet another pair of Amiga cult classics that did poorly on the PC, Rings of Medusa casts you as a prince of the kingdom who must amass armies and find ancient rings to defeat the Medusa that took over the kingdom. Each game is a curious mix of strategy (build armies via trade income) and RPG (find the rings) that's not too taxing in both but provide solid fun nonetheless. Rings of Medusa 2 adds more RPG elements with 3D dungeon romps and cool spells.
Download full game now: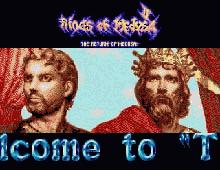 Rings of Medusa 2 (a.k.a. Return of Medusa) screenshot
People who downloaded this game have also downloaded:
Rings of Medusa, Populous 2, Romance of the three Kingdoms 3, Master of Magic, Powermonger