Game Downloads
You're located in category:
Rings of Medusa
Review 1:

A nice strategy game that offers both the usual battles but also the opportunity to do business. Trading is actual an essential part of Rings of Medusa since you have to get a lot of money before you can build up your army. To get more you can visit different cities and trade goods.

Of course there is a reason for that you have to build up your army and that is that you want to regain the crown which was held be you're your father, and former, king. In order to get the crown you have to defeat Medusa as well as complete other various things such as collecting 5 rings around in the country. The game map is quite large which is nice and it's easy to learn the game interface as well and move your army around on it.

The graphics are not impressive and it's obvious that the developers tried to make it look too much as the Amiga version since it has made the graphics unclear and in general not of very high quality. But the gameplay is intact which is of course also the most essential part of the game. Overall Rings of Medusa is a decent strategy game and I will always prefer a game like this over some game taking place in the Second World War simply because of the fantasy world it takes place in. Rings of Medusa is worth a try at least.

Review 2:

Medusa isn't only the name of a snake-haired girl in greek mythology, but also the one of an evil witch, who took over the power over a distant fantasy-land. You play the role of the son of the former king, who wants to regain his crown and defeat Medusa. To achieve this you got to build up a strong army - for this you need money, which you get by trading. And then you need five rings, that are hidden somewhere in the kingdom. A good Strategy-Game, you need both your trading- and your strategy-skills to win.

Played this a long time back on my Amiga, though the graphic of that version was better, the game stays the same. Lookin' for a solid strategy-game, that keeps you interested for more than a few days? Get this one.

Review 3:

Yet another pair of Amiga cult classics that did poorly on the PC, Rings of Medusa casts you as a prince of the kingdom who must amass armies and find ancient rings to defeat the Medusa that took over the kingdom. Each game is a curious mix of strategy (build armies via trade income) and RPG (find the rings) that's not too taxing in both but provide solid fun nonetheless. Rings of Medusa 2 adds more RPG elements with 3D dungeon romps and cool spells.

Review 4:

Strategy Adventure game. Trade and gain an army. The map of the game is actually very large! So lot's of walking with you army. Defeat Medusa in order to regain your father's (the king) crown.
Download full game now: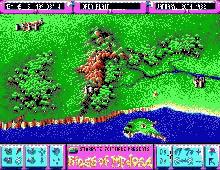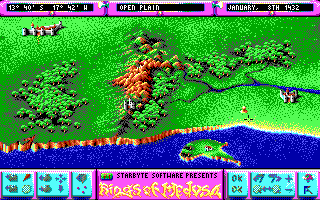 Rings of Medusa screenshots
People who downloaded this game have also downloaded:
Rings of Medusa 2 (a.k.a. Return of Medusa), Romance of the three Kingdoms 3, Railroad Tycoon Deluxe, Riders of Rohan, Romance of The Three Kingdoms 1