Game Downloads
You're located in category:
Riders of Rohan
Review 1:

Riders of Rohan is taking place in the popular Middle Earth world created by J.R.R Tolkien. It's a good mix between real-time action and strategic events in the game. All the famous characters are included within the game and the story starts where you have to fight against Saruman and at the same time free the Hobbits from Sauron. A lot of challenges to overcome.

Some of the action events that are included are bow shooting with Legolas, melee combat with Gimli and many other things. The strategic combat reminds me a lot of what Centurion: Defender of Rome offered although you can't choose the same kind of tactics. During the game the actual story will be followed and depending on how things go they will either do good and almost follow the book or change towards a defeat and the storyline will slowly turn in favour of Sauron.

The graphics are fairly detailed and especially during the actual story telling the developers have done well. The combat engine when huge armies are fighting against each other is poorly done with bad graphics and very slow gameplay. Riders of Rohan could have been a great game is the gameplay was a bit more realistic and the controls weren't so bad. In my opinion, and I hate to say this, they simply suck and makes the game very hard to play. But if you can live with and are a fan of the story you will enjoy several of the things included within the game.

Review 2:

This fun tactical wargame set in the Middle Earth features cool units (including Frodo and Aragorn), varied missions, and good graphics and music. Definitely a "light" game in that there aren't many field options, and the combat model is somewhat simplistic. Still, this game is one of the pioneers of the genre that would later see the likes of Fantasy General and the Warhammer series. The developer PSS also developed Sorcerer Lord, another underrated fantasy wargame.
Download full game now: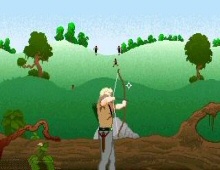 Riders of Rohan screenshot
People who downloaded this game have also downloaded:
War in Middle Earth, Romance of The Three Kingdoms 1, Lord of the Rings 1: Fellowship of the Ring, UFO: Enemy Unknown Collector's Edition