Game Downloads
You're located in category:
Gettysburg: The Turning Point
Gettysburg: The Turning Point is a classic wargame. If you can get by the CGA graphics and lack of mouse support interface, you will soon find yourself in a very well reproduced simulation of this famous battle from the Civil War. This game uses the game system first seen in SSI's Battle of Antietam, and its Command system accurately reflects the effects of leaders on the battlefield. Invidual soldiers and artillery also have a bearing on the game! If you want to play a "thinking person's" game recreating the battle of Gettyburg, this is a must for you to download; If you want heavy graphics and explosions and an easy mouse interface, look elsewhere. Of special note: This was the first game that included the degradation of visibility due to the volume of black powder or smoke obscuring the battlefield-- an innovation that became the mainstay of wargaming.

Among the awards this game garnered include: Computer Gaming World' Hall of Fame Award, 1988, and Charles Roberts Award, Best Military/Strategy Computer Game, 1986.
Download full game now: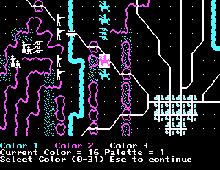 Gettysburg: The Turning Point screenshot
People who downloaded this game have also downloaded:
Civil War Generals 2, Great Battles: Collector's Edition, The, Battle of Antietam, Battles of Napoleon, Decisive Battles of American Civil War Vol. 3