Game Downloads
You're located in category:
Ultimate Soccer Manager 2
A much better game than it's predecessor, Ultimate Soccer Manager, and not much worse that it's sequel and "grand finale" USM98, USM2 the perfect example of a second "volume" in a trilogy: Although it misses the multi-league seasons avaiable in USM 98, the quality of menus vastly improved from the original USM, and in some cases even surpases 98. For instance, the club cabinet has onyl cups you actually won, and the top bar - the one most gamers miss at first on USM98 - is always visible with all options available. And if you have played USM98, you will feel at home - well, maybe not, but on the upper floor maybe, who have the same layout, and only a couple of things out of the place your are used to see. The presentation and graphic style are the same, except they are a bit more simple, with less gradients and less detailed.

You can still edit your team skills, but be warned that the psychological features of a team can either improve lack of skill... or destroy what would be a near perfect team. Buying players is more easy than in it's sequel: just click the player you are willing to buy, and then adjust the values - you will be informed if the team or player want more money, bigger wage or a less lenghty contract, and you only have a few attempts before the player stopping his negotiations. As soon as the player agrees terms, he is immediately avaiable for your squad. As usual, you can sign sponsorship deals, build new marketing/catering outlets, improve the stadium, give declarations to the press after a match, and then read the next day newspaper, and last but not least, USM's trademark, rig matches, bung teams and betting on the outcome of your matches.

There isn't much more to say about the game, except it is no more, no less what you would expect from a game in the USM franchise.
Download full game now: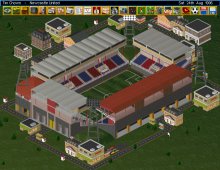 Ultimate Soccer Manager 2 screenshot
People who downloaded this game have also downloaded:
Ultimate Soccer Manager 98-99, Ultimate Soccer Manager, Championship Manager 2, Premier Manager 3, Manager, The