Game Downloads
You're located in category:
Manager, The
Review 1:

My favorite manager game after the Championship Manager series. In this game you control all things from tactics and contract negotiating to stadium expanding and sponsorship deals. The game features all the correct stats about players, clubs etc. from the 1992/1993 English Premier League season.

Each match is well animated with pictures from each important event in the match. I have not seen anything like this before. You can of course turn of the graphics if you tired of watching them and overall there are many aspects you can control within the game so it fits perfectly to you.

You start the game in Division 3 and you will have to fight your way up through the Divisions while finally ending in Premier League. Each team's strength is based on defense, midfield and attack and they all have a rating from 1 to 100 (I had 114 in strength in season 27 in a game I played once :-]).

Review 2:

I think I haven't got to tell you what the game's about - you manage a soccer-team from the 3rd League into Premier League. Train them to be champions - play the international championships etc. This one is a solid classic. Today's soccer-managers suirely provide more, but everything you really need is packed into this game. Very good gameplay combined with Europe's No1-Game - if you're a soccer-maniac like me you will have some very enjoyable hours. No need to look any further - I haven't found a better soccer-manager on the net. Try those 20 - 30 MB TrueColor-Actionsequence-packed, statistic-overloaded stuff and you'll know what I mean. They've done a good job here.

Review 3:

The Manager is an excellent soccer simulation game that is unfortunately much less popular than Championship Manager, current champion of the genre. While Bundesliga Manager, the game's German league equivalent, sells very well in Europe and is being continually updated, this England league counterpart was discontinued years ago.

That the game's relative anonymity is undeserved is obvious from the first few minutes you spend with the game. For starter, it includes accurate statistics for the players and clubs in the 1992/1993 Premier League season in England. As manager of a Division 3 club, your job is to lead the team up through the ladder, finishing up hopefully as the Premier League champion. The range of control is comprehensive: you decide on the tactics to use for each match, as well as managerial tasks such as negotiation contracts with star players and sponsors, and investing in stadium expansions.

One of the neat details that make the game memorable for me is how the game represents each match. Although the game's emphasis is definitely on coaching and managing the team, it doesn't present match results in static screens as you would expect. Instead, you will see animations of players on the screen, with each important event (such as scoring, of course) depicted very fluidly. You can turn these graphical extras off if you want, but to me they really enliven the gameplay and are even exciting to watch. The only other game I can recall from the same period that animates matches like this is On The Ball, but The Manager is a couple of years older.

With accurate statistics, excellent game engine, a solid gameplay, and plenty of nice little touches, The Manager belongs in the top echelon of soccer simulators. It may not boast as much production value as Championship Manager, but if you are looking for a pleasant game with no frills, it ranks up there with the best. Highly recommended!
Download full game now: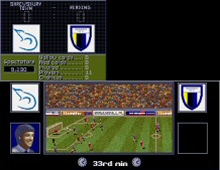 Manager, The screenshot
People who downloaded this game have also downloaded:
Championship Manager 2, Ultimate Soccer Manager 98-99, Premier Manager 3, Ultimate Soccer Manager 2, Ultimate Soccer Manager