Game Downloads
You're located in category:
Ultimate Soccer Manager
Review 1:

Ultimate Soccer Manager is pretty similar to Premier Manager games. It is more focused on getting the best players and winning the titles by owning the most expensive team in the world. The main difference between Premier Manager and USM is that USM offers more than one league, but the player names are fictional (actually, they're bit modified).

Buy, sell, train, sack, set ticket prices, build stadium, select club sponsors and such. You are not only the team manager, but the CLUB manager as well. Everything depends on you, and sometimes even the complete outcome of the championship - you can rig some games, bribe referees and such. This is a fun game, but if you want to see how really skilled you are - get Championship Manager!

Review 2:

A decent football manager game despite the somehow missing tactical challenge in the game - at least compared to games like Premier Manager and especially Championship Manager. So maybe it's wrong that the game is using manager in the title as it would fit the game better with director as most of things you can do are things like building shops, decide what price the tickets should be sold for, sponsorship and all the other things that goes around at a football club.

Of course the game does have a tactical aspect in the game - it's just very visible because of all the small things you can also do in the game. You can setup many different tactics but it's my experience that it doesn't matter that much how you play the matches with your players as it seems that you just need have the best players as you will then have a good chance to get a victory. While the game does lack a good tactical engine it offers a very nice match engine that offers a good overview of the entire match at the speed you prefer.

The most popular teams and players are included and some of the biggest leagues from Europe are also included. But several of them lack the correct details and some unknown players are even better than many of the most famous ones. So unless you want to use the included editor (which is good) and edit it so you feel the game is more realistic, be prepared to play a game with some fictional players. The graphics are very nicely done and overall Ultimate Soccer Manager is a good game if you want to try and play a game where you have to manage a club both financial and on the field as it's almost 50/50 regarding how much time you use on these things. Of course you can't build up your stadium, shops etc. without money that you will eventually get from winning matches. Really worth a try.

Review 3:

First in an underrated series of soccer management sims, David Lester's Ultimate Soccer Manager was released with little fanfare in Europe, although it manages enough success to warrant a few more sequels, the latest being 1998 edition published by Sierra On-Line.

While USM won't give Championship Manager a run for its money, the game does offer a lot of fun details and options that soccer fans will appreciate. This includes things like setting up new hot-dog stands, designing custom moves and formations, scouting for new players, and so on. The overall design is good and simple, and USM manages to offer plenty of realistic touches without drowning you in unnecessary details. The game feels like an MS Excel spreadsheet sometimes, though, due to the many screens of boring, static statistics. One of the game's strongest points is the statistics editor, which you can use to update or otherwise edit the players to your heart's contents. The graphics are adequate, and it's fun to watch new buildings pop up and new sponsors' banners displayed.

Despite all its strengths, though, USM ultimately suffers from the same problem that plagues most soccer management sims: the AI is simply not good enough. Even though you can make a lot of changes before a match is played, the results still feel too random and inconsistent with your strategies. Besides this common complaint, the players names and skills could also benefit from more in-depth research, especially with respect to the players in the non-English leagues. Had Impressions opt for fictional players, this wouldn't be a problem, but as it stands, die-hard fans will be annoyed at having to edit many players' stats to more closely match their real-life skills.

Overall, USM is a fun "light" soccer sim that is recommended only to casual fans who don't mind "unrealistic" games. Die-hard fans should stick with Championship Manager or similar titles rather than tinker with this old game.
Download full game now: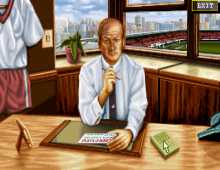 Ultimate Soccer Manager screenshot
People who downloaded this game have also downloaded:
Ultimate Soccer Manager 98-99, Ultimate Soccer Manager 2, Championship Manager 2, Premier Manager 3, Manager, The