Game Downloads
You're located in category:
TV Sports: Baseball
Review 1:

One of the best baseball games I have played on the Amiga. Too bad that the PC version isn't that good. You can control all the best teams from the top league with accurate players statistics and player names. You can play a single game or play a full league. Of course the game offer two player mode as well including very easy controls.

The game doesn't use many different game screens. But that's the same with the other games in this series. This is actually a good thing all though it might not sound like it. The graphics is the thing that gets the game up including the good but simple sound.

Review 2:

Cinemaware's third entrant in the TV Sports series is, strangely enough, not up to the standards of TV Sports Football and TV Sports Basketball. For example, there's no animated opening sequence which has always been Cinemaware's hallmarks. The game can be played as a player or manager, and even against other humans. As in the previous TV Sports games, all players can be edited to suit your style of play. You can choose from different stadiums and teams. Controlling the players is pretty straight forward but can sometimes be tricky, especially base running. You can only control the player who is closest to the ball. Pitching, on the other hand, is simple and fun. You have a selection of different pitches to throw and where over the plate to throw them. The only problem is that if you want, you can always throw a strike-- not very realistic. To add insult to injury, playing a whole season can take forever because of the amount of games in a season, none of which can be simulated automatically without hands-on control.

Overall, TV Sports Baseball is a disappointing entry in the TV Sports series, and sportsmen and Cinemaware fans would be well advised to play Micro League Baseball instead.
Download full game now: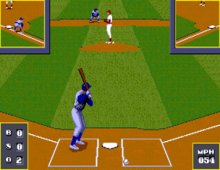 TV Sports: Baseball screenshot
People who downloaded this game have also downloaded:
TV Sports: Basketball, TV Sports Football, TV Sports: Boxing, Hardball IV, Earl Weaver Baseball 2