Game Downloads
You're located in category:
Hardball IV
Fourth entry in Accolade's popular baseball series developed by MindSpan, a follow-up to HardBall III. HardBall IV features crisp SVGA graphics and the same HardBall-style gameplay fans have come to know and love.

Aside from the drop-dead gorgeous SVGA graphics (which made Hardball IV the best-looking baseball game for years before 3D cards came along), the gameplay is virtually unchanged from Hardball III. Even Al Michaels says basically the same thing as in the last game. Fortunately, although overall the number of options has not increased by much, it is now even easier to select them than Hardball III. First of all, you can choose play options right from the main menu, including Batting/Pitching Practice, and everyone's favorite Home Run Derby-- the arcade-style "quick and dirty" game. For actual baseball simulation, there are two modes: Exhibition and League. The basic game mechanics is basically the same as Hardball III, except for the cool new cross-hairs you can use to aim your pitches. Another great option is that just about every Major League Stadium is represented in the game (not in some obscure add-on disks as for the previous game). Every detail of the stadiums has been included, down to the various billboads and actual specs.

Excellent SVGA graphics are by far the strongest point of Hardball IV. When the ball is hit, the camera angle switches automatically. The players and umpires are digitized, and the stadiums are exact replicas of their real-life counteparts. Another notable addition is multiplayer play by modem, although it has a few kinks that hamper uninterrupted gameplay.

Overall, if you are a baseball fan or even non-fan who is curious about why baseball is fun, Hardball IV is a must-have. It looks and plays better than the Dynamix' FPS: Baseball Pro, which got a lot more hype thanks to their success with FPS: Football.
Download full game now: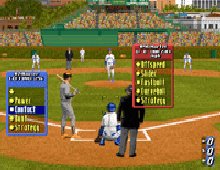 Hardball IV screenshot
People who downloaded this game have also downloaded:
Hardball V Enhanced (a.k.a. Hardball 5 Enhanced), Hardball III, Earl Weaver Baseball 2, Front Page Sports: Football Pro '95, Hardball II