Game Downloads
You're located in category:
Hardball V Enhanced (a.k.a. Hardball 5 Enhanced)
Hardball 5 Enhanced is the enhanced edition of Hardball 5, arguably the best entry in Accolade's long-running series (many baseball fans have assured me that this is better than Hardball 6, the final game in the series that I have never played). The game is much more than a cosmetic update to Hardball 4: it adds multiple difficulty settings, more (and better) comments by Al Michaels, an improved league play including the neat "legends" league, multiplayer support for up to 2 players via modem and the Internet, and many more gameplay features.

In addition to league play, HB5E offers the same comprehensive range of options that fans of the series are familiar with, ranging from Batting Practice, Pitching Practice, and the Home-Run Derby. Like previous games in the series, the gameplay is where HB5E truly shines. Designed to give the thrill of real baseball and not as a stats-heavy, realistic simulation of the sport, HB5E is very easy to learn and looks great in action. You use the combination of ENTER and arrow keys to throw to a base of your choice, and Backspace to dive or leap for a ball. Even compared to newer baseball games, HB5E ranks among the best - if not THE best - in giving you intuitive field control that includes a wide range of throws and dives. In addition, controlling each individual runner is a breeze compared to most other baseball games. The only disadvantage I see in batting is that you cannot control where you swing, so you can only make sure the crosshairs are inside the strike zone and just hope for the best.

For long-term play, league play in HB5E will entertain you for hours or even months on end. The only disadvantage is that you can only have a 28-team league, although you can create your own players, teams, and use the amazingly versatile "Logo Editor" to design your team's logo. Although HB5E is not nearly as realistic a simulation as, say, Out of the Park Baseball, there are still plenty of stats you can view, and you can choose only the categories you want to see in League Leader and team windows. Last but not least, HB5E allows 2 players to play via modem or the Internet, and there used to be many leagues popping up all over the Internet (too bad most of them had died out now).

With superb gameplay and player controls, excellent graphics, and tons of options, HB5E ranks today as one of the best baseball games ever made and the best entry in Accolade's venerable series. A must-have.
Download full game now: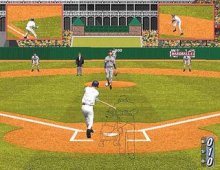 Hardball V Enhanced (a.k.a. Hardball 5 Enhanced) screenshot
People who downloaded this game have also downloaded:
Hardball IV, Earl Weaver Baseball 2, Front Page Sports Baseball Pro, Front Page Sports: Football Pro '95, Micro League Baseball 4