Game Downloads
You're located in category:
Tie Break Tennis '98
Tie Break Tennis '98 is a fun 3D tennis game that was unfortunately only marketed in Europe. The game combines both simulation and arcade elements into an excellent package, with a strong 3D engine to boot.

The game's highlight is no doubt its eye-catching graphics. Thanks to the latest in 3D technology, tennis players and backgrounds are both rendered with great detail, and the movement is convincing. The game offers three gameplay modes: friendly, ladder, and tournaments. The player interface is quite intuitive and allows you to perform a good variety of movements and shots, including volleys, backhand, forehand, spins, and more. The tournament mode is quite challenging, as each new computer player you face is better than the last. In addition to great graphics, the sound effects and music are quite nice as well (although you won't hear too much in this CD-rip, sorry).

With good 3D graphics, convincing player movements, and good gameplay variety, Tie Break Tennis '98 is one of the rare modern-day tennis game that fans of the sport should take a look. It's not nearly as classic or versatile as 4D Sport Tennis, but it is a lot of fun nonetheless.
Download full game now: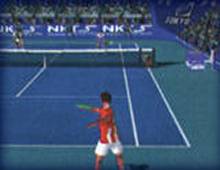 Tie Break Tennis '98 screenshot
People who downloaded this game have also downloaded:
Tennis Cup II, World Tour Tennis, Great Courts 2, 4D Sports Tennis, Actua Soccer 3