Game Downloads
You're located in category:
Actua Soccer 3
Imagine Sensible Soccer. Imagine a 3D engine built over the massive ammount of teams and competition options. Now imagine everything screwed up by unrewarding gameplay, and there you have Actua Soccer 3 in its full glory.

25 leagues, including England up to the thrid division, Italy with both Serie A and B, Argentina, Belgium, Brazil, Germany, Holland, France, Potugal (which caused the game to be pulled from shelves due to licensing problems), Scotland, Spain, USA, Two leagues of european teams without league and a non-european club league in the same format, not to mention six national team divisions, divided into the "World Team" leagues - sides that qualified for the World Cup 98, the "WT1" being the ones qualified for the knockout stage, and the "WT2" those who haven't made it - and the "International" leagues, 4 total, for those who stayed watching TV in the '98 summer.

Even if the ammount of teams isn't enough, there's always room for user created teams, where you can edit the kit or fetch from any other team, buy players or create them, with customizable looks and stats, which will depend on your budget. Therefore, you can't have a perfect team. And if even that is not enough... by winning each league you unblock extra teams. You surely can't ask much more than that.

Gameplay-wise, it works pretty decently until you have to shoot. While you see computer players scorching from well outside the area sucessfully (and most times feel cheated, as the goalkeepes does absolutely, and sometimes will even throw to the opposite side the ball is going), it's darn difficult to make a worthy attemp on goal. Inside the area, outside, most goals I scored were using the classic "far post low pass" move, which means, no goalie involved. To make things worse, It's clear that the goalkeeper has some kind of "working radius" where the ball is automatically placed on his hands if comes inside that radius.

However, that's not all bad in gameplay. The "First Time Moves" produces smooth plays sometimes, and the addition of modifiers allow the player to keep running on a direction, while passing in front, sideways or heel the ball backwards by combining both pass button and the modifiers. As usual, adding to the there's always the faithfull lob pass, and the trademark of Actua, the shapeshifting player indicator, which stands for a cross or a long pass, depending of the shape. And if you're all alone in front of the goalie, you can try to chip him, and it's one of the moments I haven't felt cheap by scoring a goal.

Sprinting is quite different from other games: while FIFA allows the player to run with complete control of the ball, Sillicon Dreams' Champions League/WLS allow either to run with ball glued or pushing it forward, A3 relies on a hard to master pushing forward mode: the distance the ball goes forward depends on how long you press the sprint button. After giving the first touch keep pressing the button, and the player will continue giving small touches forward.

Defensively, it's complete. Not much to comment here.

Graphics suffer from good textures stuffed into terrible models. Stadiums, altough recognizable, have few details (and never filled, even for a England - Germany at the "Twin Peaks" AKA Wembely), player models, altough smoothly animated, are blocky. The finest hour on graphics is the weather effects, with fog in full glory and snow, instead of being a white-ish green is a giant mass of glorious white, when players run or tackle leave trails, that slowly vanish a few seconds later. Although irrealistic, it's damn fun to play in snow - that is, if don't bother the almost invisibile ground lines. TV presentation, to put things directly, just seems wrong. If there is a penalty, there will be a replay, which is cut right in the crucial moment. Goal celebrations are uninspired, and even Alan Shearer's "right hand up and start running" celebration is taken out of his persona, altough the game was endorsed by him.

Just in time for the final whistle, I feel reluctant in giving a "recomended" tab, so much for a top game. While there are teams to keep anyone (and I mean ANYONE) entertained for long, gameplay is not as rewarding like other games, even older 2D games.
Download full game now: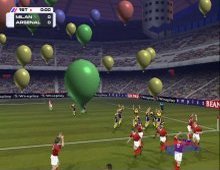 Actua Soccer 3 screenshot
People who downloaded this game have also downloaded:
Sensible Soccer '98, Actua Soccer: Club Edition, Sensible World of Soccer 96_97, Sensible Soccer, Tie Break Tennis '98