Game Downloads
You're located in category:
Sensible Soccer
Review 1:

This brings back some good memories. By 1993 there were numerous attempts to make a decent football game but nobody succeeded in that noble task as good as Sensible Software did with it's Soccer. This game was the best sports game ever and is still enjoyed all over the world. League, cup, friendlies and all other that comes with football attractions. This game is a hit and it always will be. Get it as soon as possible! Don't forget, you MUST play it in DOS or it will not work.

Review 2:

Probably my favorite soccer game after the Kick Off series. The game offers many different tournaments and cups to choose from and most teams are included as well for both national teams and club teams. Like in Kick Off the ball is not glued to your players which is good and there is also different ways you can shoot the ball.

The match engine is really great and you can have a good look across the entire stadium within a few seconds of play. The graphics are good and detailed and the game has a great atmosphere during the matches as well, because of the sound implemented.

Review 3:

One of the really GOOD (action-)soccer-sims. The control is a bit confusing at first, but you'll soon find out that the balls just not glued to the players foot like in most other soccer-games. It's not easy to master, but it's most realistic! This game provides you with ev'rything - four languages, national-teams, league-teams, "fun"-teams - an editor for the teams. You can play a standard Cup or a standard League or you can make your own rules. Of course two-player-mode is also implemented - just ev'rything you can imagine, it's there! As you can see you've also got quite some tactical variations and not all players are of equal strength. If you're looking for a good, realistic soccer-game with many features - this is just the one!
Download full game now: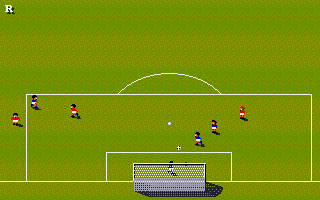 Sensible Soccer screenshot
People who downloaded this game have also downloaded:
Sensible World of Soccer, Sensible World of Soccer 96_97, Sensible Soccer '98, Sensible World of Soccer: European Championship Edition, Speedball 2