Game Downloads
You're located in category:
Speedball 2
Review 1:

The Bitmap Brothers affirmed their status as leading action game developer with Speedball 1 and 2, two highly enjoyable futuristic ball games that combine elements of handball and rugby. The simple goal of getting the ball past the goalkeeper is complicated by many "tokens" that allow you to give extra skill to the squad, bribe referee, turn the ball into a weapon, etc. Speedball 2 greatly expands on the concept with bigger pitches, more complex league play, and more. You are scored for injuring your opponents as well as goals, so... let the carnage begin ;)

Review 2:

Very cool futuristic sports game. Purpose of the game is to score in a goal with a ball, instead of kicking the ball, you can run with it or throw it away to another player. You can tackle your opponents. There are no borders around the field, because you play it inside some sort of rectangled building, with high wall on which the ball ricochets.
Download full game now: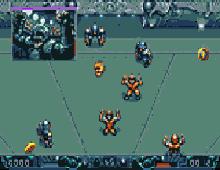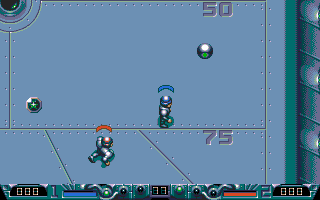 Speedball 2 screenshots
People who downloaded this game have also downloaded:
Speedball 1, Sensible World of Soccer 96_97, Speedball 2: Brutal Deluxe, Sensible World of Soccer, Cannon Fodder 2