Game Downloads
You're located in category:
Tennis
Looking at game titles is one good way to tell the 'pioneers' in specific genres apart from the followers. So when a game is called simply Tennis, you can count on it being one of the oldest tennis games ;)

Not that Tennis is a bad game. It is actually a pretty decent tennis game for one or two players on the same computer. Aside from primitive (but not bad for its time) four-color CGA graphics, the gameplay is limited to single match play. But it makes up for the limitations by giving you a decent depiction of a tennis match. All the rules are implemented, and the players are animated smoothly. It may not be as much fun as tennis games on the Atari 2600, but for a 1986 PC game, it is not bad at all.
Download full game now: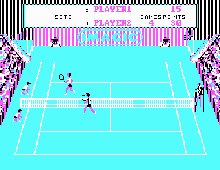 Tennis screenshot
People who downloaded this game have also downloaded:
Tennis Cup II, TV Sports: Boxing, Tie Break Tennis '98, Winter Olympiad (a.k.a. Winter Challenge), Skifree