Game Downloads
You're located in category:
SuperStar Ice Hockey
Ed Ringler immediately went from being a no-name designer to one of the most venerable sports game designers of all time with this underrated hockey classic that is almost as close as it gets except for the unfortunate absence of in-game fights. As both a coach and team player, your options are virtually limited: you can train and trade players, set offensive and defensive strategies that range from "forecheck" (when the wing will cover the wing when the puck is not in the team's defensive zone), to "attack" (an offensive strategy that dictates players to try more shots than passes).

It is on the ring that the versatility and intuitive interface of SuperStar Ice Hockey really shines. The players move fluidly (or as fluidly as they could, given 1987 hardware), and you can make all the shots that are common in hockey: slap shot, quick shot, or even *faking* a shot. You can hone your dexterity in practice games, and toggle puck size to make it more visible. With great gameplay, responsive controls, and good graphics for its time, SuperStar Ice Hockey is a must-have for all hockey fans.
Download full game now: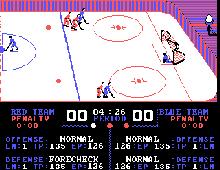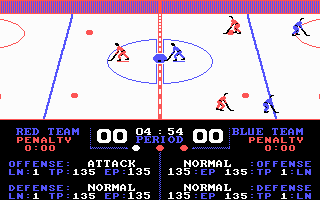 SuperStar Ice Hockey screenshots
People who downloaded this game have also downloaded:
Face Off, Hockey League Simulator 2, Brett Hull Hockey 95, SuperStar Soccer, NHL Hockey '93