Game Downloads
You're located in category:
Rally Challenge
Rally Challenge is a decent shareware rally game from Silver Lightning Software - "decent" being the operative word. Endorsed by some of the world's biggest rally teams, the game features 3 famous cars: the Subaru Impreza WRX, Toyota Celica GT4, and the Proton 'Wira'.

The best thing about Rally Challenge is the number of exotic locales to race in - some of which are hardly seen in a game. You will race in 9 stages set in 9 countries, including original tracks set in Sweden, Indonesia, Australia, Greece, and France. Aside from different backdrops, the stages also pose different terrain challenges, from snow to bitumen to gravel. You can race against the clock, a phantom racer, or another human player via serial link or network connection. The game comes complete with all the options you would expect from a racing game, including multiple camera views, control schemes (keyboard, joystick, gamepad, and steering wheel are supported).

But that's pretty much it - while there's nothing particularly bad about the game, Rally Challenge is also not particularly special. After you have played it once, there is little to come back - unlike classics like Stunts or Insane that have high replay value. Car physics is reasonably realistic and the graphics decent, but the game just doesn't have that "just one more lap" quality that separates classic racing games from mediocre ones. Rally Challenge is little more than another nondescript, bland racing game that you'll play only once or twice before going back to Stunts.
Download full game now: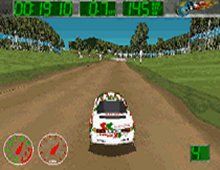 Rally Challenge screenshot
People who downloaded this game have also downloaded:
Moto Racer, Motorhead, Moto Extreme, Lamborghini: American Challenge (a.k.a. Crazy Cars 3), International Rally Championship