Game Downloads
You're located in category:
International Rally Championship
International Rally Championship is an excellent sequel to Magnetic Fields/Europess' 1996 Rally Championship, and is the fourth entry in Magnetic Fields' long line of top-notch rally simulations that began in 1993 with Network Q Rac Rally (as an interesting side note, the company's expertise in racing games dated back to early 1990's with best-selling Supercars and Lotus series for Amiga/Atari ST computers).

Instead of being centred around the British round of the World Rally Championship, International Rally Championship, true to its name, lets you compete in 16 global locations, including many that are not part of the actual World Rally Championship - from the deserts of Egypt to the rainforests of Brazil. The number of cars available has been increased to nine, but for some strange reason the first-person behind-the-dashboard perspective is omitted in this version, forcing you to control the car from an outside view.

Similar to previous games, IRC offers a good selection of play modes: arcade, time trial, simulation (i.e. a full rally season in which you drive on each track), championship (i.e. race on various tracks on various levels of difficulty), and finally a custom mode that lets you customize various parameters of the race, from weather conditions to the number of participants. Multiplayer options are available: the IPX network session can support up to eight players, and you can play against a friend in serial mode. The game also includes an easy-to-use track editor that lets you recreate your favortie tracks or create original ones.

International Rally Championship is a solid entry in the excellent but highly underrated line of rally simulations. It is not as well-known as SEGA Rally, but it is both more realistic and more replayable. If you like rally games, this is one game you can't pass up. Highly recommended.
Download full game now: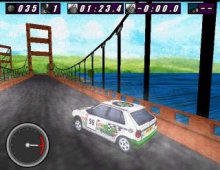 International Rally Championship screenshot
People who downloaded this game have also downloaded:
Nascar Racing 2, Motorhead, Micro Machines V3, F1 World Championship Edition, TOCA Touring Car Championship