Game Downloads
You're located in category:
F1 World Championship Edition
F1 World Championship Edition is an updated version of Lankhor's Vroom, a highly underrated F1 racing simulation, first released in 1991 in Europe. The game features all 16 circuits on the FIA calendar, while keeping the clean graphics and interface of Vroom intact.

F1WCE offers the standard range of options: you can choose between different game modes (including Arcade, Training, Racing), automatic or manual transmission, and the number of laps. It's also possible to play against another human by using a null-modem cable - a nice addition. The Arcade mode is in my opinion the best one in the game, because it's where the game's arcade focus shines the most. You can almost make it through every turn without losing the brakes - not realistic of course, but a lot of fun. Finish in the top 3 in each of the 5 tracks, and you'll win the game. The Racing mode is naturally more realistic and longer: you have to complete a season of F1 racing, starting with qualifying rounds. You can tune your car before the race, and visit pit stops during each race for re-fuelling and adjustments. Steering is more difficult than in Arcade mode, and a lot of practice is required, especially since computer opponents are no cakewalk.

F1WCE is a lot of fun - especially when you are driving downhill at 200 mph. It is not a serious racing simulation by any means, so if you love MicroProse's World Circuit or Papyrus' racing games for their realism, you will be disappointed with this game's obvious focus on arcade-style racing. If you are a fan of games like Street Rod, you'll find that F1WCE delivers a similar adrenaline rush and wonderful feeling of speed, despite its simple graphics, with fluid animation and intuitive controls. Recommended for fans of arcade-style racers everywhere.
Download full game now: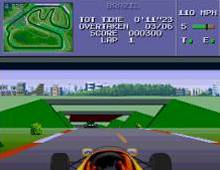 F1 World Championship Edition screenshot
People who downloaded this game have also downloaded:
Grand Prix Manager 2, Pole Position (a.k.a. Team F1), F1 Manager Professional, International Rally Championship, F1 Manager 2000