Game Downloads
You're located in category:
F1 Manager Professional
Review 1:

F1 Manager Professional is an excellent, comprehensive, and highly underrated F1 manager game by German developer Software 2000. The game lets you control every aspect of F1 team management, from manufacturing and financing, to race performance and even merchandising. Getting ahead in F1MP requires a skillful combination of business savvy and engineering know-how, because your goal is not only to take your team to the top, but also to make money while doing so.

A more advanced and improved version of Software 2000's earlier F1 Manager, this Professional version uses a user-friendly and intuitive icon-driven interface to navigate through the literally hundreds of menus, charts, models, and diagrams that give you all the information you need to plan an effective business and race strategy. There is a lot of text and variables you need to grasp, especially in the design and testing of race car models. The game uses excellent SVGA resolution to present all the menus and the actual racing action in flawless detail, down to the sponsor's advertising and background scenery. Beneath the polish lies an incredibly deep simulation that is sure to appeal to both the hardcore business simulation crowd and die-hard F1 fans. If you enjoy the likes of Grand Prix Manager but don't want to deal with business aspects, you can toggle off many micromanagement details that limit the game's scope. You can also choose from multiple difficulty settings and change most other variables that affect the game to suit your preferences and skills. This excellent customizability F1MP should appeal to both casual and hardcore gamers alike. All in all, F1MP is one of the most underrated titles you will ever come across - not only as a F1 manager sim, but even as a business simulation in general. If you are interested in professional sports management and want to play something a little different from the many soccer managers on the market, you definitely have to take a look at F1 Manager Professional.

Review 2:

F1 Management Professional is a strategy/simulation hybrid that challenges the user to manage, from the ground up, a Formula 1 racing team. German developer Software 2000 added this great sports game to the list of sports simulations in the late nineties.

To begin with, F1 Management Professional has an extended learning curve due to the high attention to detail required to succeed in the game. A user could play for years and still find new things to do and challenges to meet. Obviously, the game has great replay ability for that reason. It is very complex and users looking for an imitation of Pole Position or some other basic driving game need not apply here.

The goal of F1MP is the same as most games of this nature. The user's team must be successful in order to make more money. More money can be used to make the user's team still more successful. Some of the decisions that are place in the user's hands include: choosing a capable pilot for the car; testing different styles of car; enhancing the performance of the car through mechanical knowledge; manufacturing merchandise; and otherwise financing the team and the car. In order to be at all successful in F1MP, the user must not only have some business knowledge, but because he also does the job of the crew chief he needs to have some engineering skills, as well.

With such a complex system to learn, one might fear F1MP would present an insurmountable challenge, but the developers included a wonderfully intuitive and manageable user interface that takes you through each aspect of micromanagement cleanly and clearly. The interface is icon driven and presents all the charts, business models and other information very nicely. Moreover, for those gamers who are not seeking such a hardcore micro managerial experience, many of the game's aspects can be toggled off to become non-factors, making the game much simpler.

In short, F1 Management Professional is a great upgrade from F1 Management. The graphics are bright and colorful! At its finest, this game is a challenge and fun one, at that. Any sports or business simulation fanatic is going to love F1 Management Professional. I highly recommend downloading it!
Download full game now: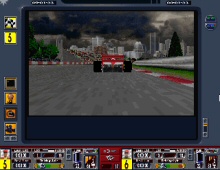 F1 Manager Professional screenshot
People who downloaded this game have also downloaded:
F1 Manager 2000, Grand Prix Manager 2, Grand Prix Manager, World Championship Boxing Manager