Game Downloads
You're located in category:
Grand Prix Manager
Grand Prix Manager (GPM) is an excellent Formula One management simulation for Windows, one of the first commercial ones of its kind.

GPM is not an F-1 driving game. Rather, it's an F-1 *management* game. You don't do the driving - you get other people to do it for you. What you have to do is to ensure that the drivers that you employ each have a fast and competitive car for the coming race...and the race after...and the race after - for 40 seasons. And remember, taking part is not enough...it's the winning.

As manager you have to make sure that you have the best personnel available in the market - engineers, designers, mechanics, marketing staff and of course, the drivers - all within the contraints of your budget. The marketing people are responsible for "wooing" potential sponsors to your team and to negotiate merchandising deals. The engineers, mechanics and designers, the unsung heroes of a Formula 1 team, have to divide their time between preparing the cars for race day and doing R&D for new parts, driver aids and the next year's chassis. The bottom line is simple: you like the sport and are partial to management simulations, then GPM is a must-have. But beware: This is a fairly poor CD-rip missing the in-game sounds and music. You will also need Microsoft's WinG graphics library, which can be found at Microsoft's website. The game works only in 256 color mode, so be sure to change screen resolution before playing.
Download full game now: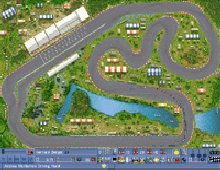 Grand Prix Manager screenshot
People who downloaded this game have also downloaded:
Grand Prix Manager 2, F1 Manager 2000, F1 Manager Professional, Pole Position (a.k.a. Team F1), Championship Manager 2