Game Downloads
You're located in category:
Grand Prix Manager 2
Review 1:

The superior sequel to Edward Grabowski's classic and highly underrated Grand Prix Manager (published by MicroProse), Grand Prix Manager 2 is more of the same - which can only be a good thing given how good the original was. Like its predecessor, GPM2 lets you manage an F1 team of your choice, giving you the entire 1996 Championship Season and dozens of Constructors' and Drivers' Championships teams to manage or compete against. Your goal, of course, is to make your team the best in the world of F1 racing.

Edward Grabowski designed several strategy games while at Impressions, the developer known for reams of statistics - and GPM2 is no exception. The game keeps track of hundreds of statistics and variables, all of which combine to convincingly simulate the workings of world-class F1 teams such as Benetton, McLaren, Williams, and - of course - Ferrari. As in real F1 racing, your success depends on many parties. It's not enough to put the best drivers behind the best cars: you must also find willing sponsors, train the most efficient crew, and manage the team's finances effectively. As in real life, the top F1 team can burn a few US$ million in a month. Therefore, financial savvy, negotiation skills, and management skills are just as important as technical know-how.

As an almost complete novice in this genre, I can't vouch for the realism of GPM2. But given the high regard the first game received from F1 gaming gurus and the usually high realism standard of Grabowski's past titles, I have no doubt this game is just as realistic as fans would want - perhaps even more so, given the level of detail in the game. Being a fan of business simulations, I found GPM2 a fun and addictive game. The financial management aspect is quite challenging, too - especially since it's a long time between the date that you spend (mostly the sponsor's) money, and the date your team wins it back. With a plethora of options, decent graphics, and reams of statistics, GPM2 will certainly appeal not only to F1 fans, but also business sim gamers everywhere.

Review 2:

This game is definitely a game that all the family can enjoy, if you love formula one, you'll love grand prix manager 2! This game is a judge of your ability to react to certain situations for example in the middle of a race and the rain starts to pour, its your job to order the team to get the pits ready and judge when is the right time to bring in the drivers so they don't lose valuable places in the race.

It's your job to decide which sponsors are the best to take is the ones who are offering most money now or is the ones who offer a longer contract therefore a more long term investment. Also you have to decide which drivers you want at your team, remember to be realistic. You need to organize the contract from them which is enough to bribe them from another team but not enough that it leaves you struggling for money. You also need to decide on the quality of your hospitality at the races, some circuits require a higher hospitality due to the clientel. This game is an absolute blast and it would be a major sore point in your life if you decide not to take the 5 minutes out of your lives to download this absolute beauty and classic of the gaming world!!

This game will have you hooked for hours. I play a lot of championship manager 06 and I can't wait for the new one to come out because I am a little bored of the old one, so I was thinking about which game would be perfect to fill the gap between the championship manager games and I remembered this, so I had a day off work and managed to track it down, now I can't wait to play it!

My girlfriend won't be very happy because she won't get any of the good stuff now that this beauty is installed on my computer. So to conclude the review… you have to get and play this game, it is amazing, I don't even like formula one, but I absolutely love this game… And you will too!
Download full game now: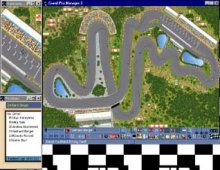 Grand Prix Manager 2 screenshot
People who downloaded this game have also downloaded:
F1 Manager Professional, F1 Manager 2000, Grand Prix Manager, Championship Manager 2, Settlers II Gold Edition, The