Game Downloads
You're located in category:
Motorhead
One of the last games published by Gremlin before they were bought out, Motorhead is an excellent racing game developed by Digital Illusions that deserves a much longer shelf life than it received. Trixter's description and review at MobyGames says it all about this game:

"Motorhead is a racing game set in the near future. Despite its semi-futuristic setting, the cars require realistic handling. There are 10 different cars and 8 different tracks. You don't get them all at once however, you have to earn them by winning championships in the Transatlantic Speed League.

The Good:

Motorheadis the nearly-perfect embodiment of beauty, speed, style, and form in a racing game. The handling is fairly true-to-life (or, at least, as true-to-life as racing 20 years in the future would be), with firm suspension and realistic tire grip.

Display: The display engine is not only fast has almost no scenery pop-up whatsoever. If you're lucky enough to own a 3D accelerator, especially one that supports 32-bit color rendering, the distant scenery flows onto the screen smoother than butter.

Music: From a demomusic veteran, the music ranges from light and airy to urgent and insistent. While some music tracks are weak, there are none that are bad.

The Bad:

The "easy" difficulty level is too easy. The medium level is hard. The hard level is insane. Unless you're a veteran of PC racing, the game will appear quite difficult to you. The control of the cars is misleading at first; the setting is futuristic, which implies arcade-like handling and control of your vehicle, but the handling, suspension, etc. are close to "normal" for sports cars. It takes getting used to.

The Bottom Line:

If you're good at racing games and want a strong challenge, check this out. And if you don't have a 3D accelerator card, buy a 32-bit color rendering card like the Viper V550 (TNT-based) so you can get the 32-bit color version with the gorgeous rendering." If you like racing games, Motorhead is simply a must-have.
Download full game now: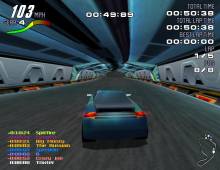 Motorhead screenshot
People who downloaded this game have also downloaded:
Moto Racer, Moto Extreme, International Rally Championship, Dave Mirra Freestyle BMX, GT Racing '97