Game Downloads
You're located in category:
Purple Saturn Day
Master of innovative sports games (California Games etc) returns to form with this strangely compelling futuristic first-person intergalactic olympics game designed by Exxos (a team of French programmers that would later form Delphine). The game features weird alien cars, interesting courses (both space- and land-based) and the same knuckle-blistering fun as in other Epyx games.

The games you can compete in are all, as befits Exxos, wacky and hard to describe. In "Tronic Slider Test," the goal is to get the "energy ball," shoot it with laser, and gain points by collecting pieces it leaves behind before your opponent does. "Ring Pursuit" is a cross between a slalom race and a shoot-em-up, where you race against your opponent on a track around Saturn. In "Brain Bowler," the only puzzle-type game of the bunch, you must fire electroball at the various components of a giant computer to toggle switches that will charge up all your chips. "Time Jump" is the weirdest game, where the goal is to jump as far as possible into the future by fueling up a gravity catapult first, and then using yourself as the human cannonball. If you're looking for Captain Blood-style wackiness or a sport game that's literally out of this world, Purple Saturn Day is for you. It is an extremely difficult game, but you can proudly claim yourself a master arcade gamer if you beat this one.
Download full game now: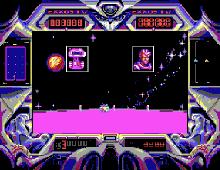 Purple Saturn Day screenshot
People who downloaded this game have also downloaded:
Zany Golf, Front Page Sports: Football Pro '95, Lord of the Rings 1: Fellowship of the Ring, Hole-In-One Miniature Golf, Micro Machines