Game Downloads
You're located in category:
Hole-In-One Miniature Golf
A humorous miniature golf game with a lot of innovative ideas, Hole-In-One Miniature Golf from DigiTek is a severely underrated game that deserves a closer look. The game takes the standard approach of using the overhead view for play: you first place your ball on a starting area, then aim your shots using the mouse to guide a simple targetting bar - the distance from the ball represents the power, the angle represents chosen direction. Nothing novel, but as they say, if it ain't broke, don't fix it.

Anyone who prefers realistic golf games will immediately find that Hole-In-One is flawed for all sorts of reasons. First of all, the ball doesn't always bounce convincingly, especially from corners of a course. In addition, the graphics are quite amateurish and two-dimensional, and it's hard to tell the "3D" obstacles on the course apart from background graphics. This means you can never be certain which bits of scenery the ball will bounce from, and which it will pass over. Despite these faults, though, Hole-In-One is a lot of fun to play, mostly for the ingenious course design and gameplay twists. For example, the "Out Of This World", uses computer tricks that would be impossible on a real course, with teleports and funky gravity. The black hole level in particular is such a very good idea that I was amazed nobody thought of it earlier.

The bottom line: if you like miniature golf games and are willing to lower your expectations on realism, Hole-In-One is an enjoyable experience. There are enough creative ideas and cool courses in the game to keep golfers happy for hours.
Download full game now: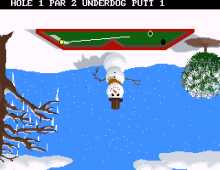 Hole-In-One Miniature Golf screenshot
People who downloaded this game have also downloaded:
Fuzzy's World of Miniature Space Golf, Minigolf Maniacs, Zany Golf, British Open Championship Golf, Games, The: Winter Challenge