Game Downloads
You're located in category:
Zany Golf
Zany Golf is a great miniature golf game that even today ranks as one of the best games of its kind. It?s worth noting that the game was designed by Will Harvey, one of Electronic Arts? most under-appreciated designers who was responsible for The Immortal, among other forgotten classics.

What makes Zany Golf a blast to play is the combination of wonderfully creative courses and excellent ball physics?the two most important ingredient in a mini golf game. The holes are protected by bouncing hamburgers, windmills, weird-looking buildings, and numerous other objects that are very well animated. Courses also have several interesting themes, including a mad scientist?s lab and a pinball table. You can even win bonus strokes by finding hidden bonuses and completing the courses well before the clock runs out. The holes start out easy and gradually get more difficult and imaginative, so beginners will have many chances to perfect their strokes before the more difficult holes. The graphics are crisp and clear in EGA, and ball physics and handling are both excellent. Overall, a must-have if you like mini golf, and a much better than Accolade?s better-known Mini-Putt.
Download full game now: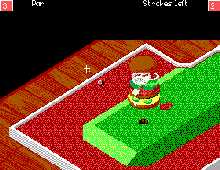 Zany Golf screenshot
People who downloaded this game have also downloaded:
Lemmings 2: The Tribes, Hole-In-One Miniature Golf, Lemmings for Windows 95, Battle Chess for Windows, Waterslide Island