Game Downloads
You're located in category:
Games, The: Winter Challenge
Review 1:

You compete in what is a mini version of the Winter Olympic games, taking part in 8 different events. You have the option of training in certain events so that you can get better results or you can straight out go and enter the tournament which consists of you competing in all 8 events - which are Luge, Downhill, Cross Country, Bobsled, Speed Skating, Giant Slalom, Biathlon and Ski Jump. Gold, Silver, and Bronze medals are awarded for each event, and if you don't get a place in the top 3 times, or the top 3 scores then you simply receive nothing.

Review 2:

A good remake of the classic Winter-Games you might have played on your C64 years ago like I did. You get the chance to compete in various disciplines like Bob, Biathlon, Downhill-Ski. They did a good job here - solid concept, good graphics - what should I write more? Though I've never been the biggest fan of winter-sports in real life I enjoyed playing this one. Only downpoint: the difficulty is pretty high (in my opinion). Nice enjoyable sports game especially for its time.

Review 3:

Despite being more than a decade old, The Games: Winter Challenge remains today one of the best winter sport games ever made. In the same spirit as the popular Epyx sports series, Winter Challenge includes a wide variety of sports, all of which you can practice before the tournament starts: two types of bobsled, downhill skiing, slalom, cross-country skiing, biathlon, speed skating, and ski jump. Choose your event, train for your best effort, then compete against friends or computer opponents.

In addition to a very user-friendly interface, Winter Challenge deserves high marks for excellent graphics, which combines vector, bitmap, and hand-drawn styles to create excellent illusion of 3D action. Joystick support is also excellent, and there are many great sound effects, such as the swooshing while you ski, that add a lot of atmosphere to the game. Last but not least, the animations are very realistic—you will observe the ski tucking, poling, and skating steps quite easily. The ski jump and bobsled are my favorite events, but all of them are fun. An elapsed time clock lets you track your performance in both practice and tournament modes. Overall, a solid game that is definitely a must-have for anyone who likes winter sports. Too bad the game was released a bit too early to take advantage of an official Olympics license - it was one year before the Albertville 1992 Games took place.

Review 4:

Did you ever want to compete in the Winter Olympics? Did you ever want to ski or skate for your own country? Well, this is the time, this is the place. There's nothing to tell about this game really. Just try it out, I'd say and you can tell wether you like it or not. By the way, if you're looking for something that's a bit warmer, try Summer Games.
Download full game now: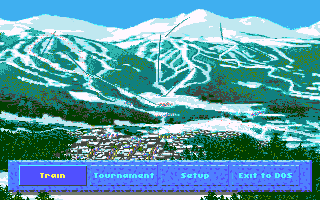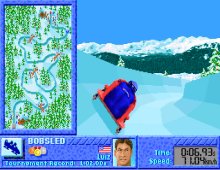 Games, The: Winter Challenge screenshots
People who downloaded this game have also downloaded:
Games, The: Summer Challenge, California Games 2, California Games, Games: Summer Edition, The, Games: Winter Edition, The