Game Downloads
You're located in category:
California Games 2
Review 1:

California Games 2 is a game full of fun. In it you can choose which sport to play: Skating, Surfing, Snowboarding, Gliding, Jet ski.

SKATING: You are on the ramp which has an end...that sounds weird. Pressing left and right at cool timing you are faster and you have more air. There are tunnels on your way so that makes this thing harder. When you jump on the tunnel you die, when you go into the wall on the side of the tunnel you die. Best time at the end wins.

SURFING: At the beginning of the surfing you must do tricks so that you collect more points to win, when the wave goes down you are pushed to the beach but to make things harder there are people on your way. If you bump into someone you die. Best score wins.

SNOWBOARDING: At the beginning you drive a helicopter to the top of the hill. So you jump from the helicopter and do the downhill snowboarding. When you come to the half of the hill you get to the half pipe where you must collect score. When you get down the hill you are finished. Best score wins.

GLIDING: You are a woman who has water balloons? You must glide above the sea and throw balloons on the round "things" when you don't have any balloons left you must go back to the cliff. When you fall into water you die. Best score wins.

JETSKI: you are a woman who has a jet ski. You must be on the right track all the time to gain points if you are out of the track you are not collecting any points and time is running out. Pressing enter you are faster. Best score wins.

Recommended for the sport fan as you can play several different and funny game styles offering many challenges over and over.

Review 2:

California - home of the sun and many weird kinds of sports. Not being as innovative as the first part California Games 2 still is a nice game featuring 5 types of fun sports - Paragliding, Jetski, Skating, Surfing and Snowboarding. All made pretty well although Jetski seems to have a problem on modern computers - I didn't really see anything on the water... it rushed by waaaaay too fast. Got points anyway, so hey.

I guess you get the idea of what you do in the disciplines of Skating and Surfing and probably have a rough idea of Snowboarding (get downhill without falling too often - do some tricks in a half-pipe in the middle of the track) - Paragliding however is a bit... unusual. Do flightmanoeuvres for points and drop waterbombs (okay... I asked myself why someone would do that as well, but it's a game and one does not have to know everything) - also you have to take care not to crash into the cliffs or the water (watch out for sharks!). Controls for all the disciplines are okay, my joystick however did not work SO great - so better play this with your keyboard.

The idea is not new and there might be better games picking up most of the disciplines, however it's a nice thing and one of the technically better childs of the ... Games series. Sure worth a try if you like fun sports.

Review 3:

As if to prove beyond question that their success with California Gameswasn't a fluke, Epyx released this sequel to lure all armchair surfer dudes and gals back to the screen once more. California Games 2 boasts 5 all-new events, better graphics, and a rocking soundtrack that's even better than the original. The tougher tournament this time around-- especially in latter rounds of Hang Gliding and bodyboarding-- makes the game a welcome challenge for California Games veterans. Sports include Hang Gliding, Snowboarding, Jet Surfing, Bodyboarding, and Skateboarding. The only bad thing about this is that it were to be the last game Epyx would ever release before filing for bankruptcy in late 1991. A bonafide masterpiece by all accounts.

Review 4:

California Games 2 builds on the popularity of the first game with more events to compete in and better graphics and sound. Personaly I can't say that I owned CG1 so my first experience with the games was playing this one.

The events themselves are diverse: skateboarding, downhill snowboarding, boogie boarding, jetski racing and hangliding. Some are better than others, for instance I became thoroughly addicted to the skateboarding, but could never really get into the jetski event - I guess it's all a matter of taste.

I recommend the game. Great fun.
Download full game now: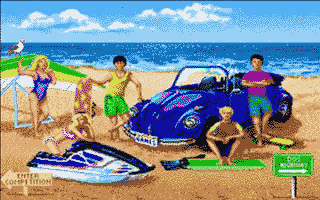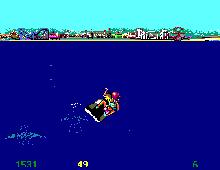 California Games 2 screenshots
People who downloaded this game have also downloaded:
California Games, Games, The: Winter Challenge, Games, The: Summer Challenge, Summer Games 2, Winter Games