Game Downloads
You're located in category:
Games, The: Summer Challenge
Review 1:

You compete in what is a mini version of the Summer Olympic games, taking part in 8 different events. You have the option of training in certain events so that you can get better results or you can straight out go and enter the tournament which consists of you competing in all 8 events - which are Archery, Equestrian, Kayak, Hurdles, Pole Vault, High Jump, Javelin and Cycling. Gold, Silver, and Bronze medals are awarded for each event, and if you don't get a place in the top 3 times, or the top 3 scores then you simply receive nothing. The keys take a while to master, but however as is with everything else - practise makes perfect.

Note: If you get an error with the copy protection, download and run Neverlock and use that to patch the game. It will then guide you through how to install/run the game properly without being hassled by any copy protection.

Review 2:

A nice remake of the classical Summer Games. The controls are a bit confusing sometimes, but overall a nice sports-game for all of those who missed their chance to qualify for the 'real' olympic games. You got various events to compete in - it's pretty similar to the "original" game there. Kajaking for example - or archery...

Graphics are nice here, but the game really prefers being run under pure Dos, please don't come complaining the game crashes under Windows, it simply does. Also start the game by running the Summer_k.exe - the game is cracked and this is the loader.

Review 3:

The Games: Summer Challenge is a worthy sequel to MindSpan/Accolade's classic Winter Challenge, this time based on Summer Olympics games. Similar to its predecessor, Summer Challenge lets you compete in 8 different events, each of which you can practice for as long as you like before the tournament.

Summer Challenge is based on the same engine as Winter Challenge and designed by the same team, so you can expect the same ease of use, excellent graphics, and fun music. The events are archery, equestrian, kayaking (my favorite), 400m hurdles, pole vault, high jump, javelin, and cycling. You enter the tournament with up to 10 friends, or go solo against the computer. I find that the game is a bit easier and more repetitive than Winter Challenge in terms of actual gameplay: smacking the ENTER key repeatedly is usually enough to win most events. Hand-eye coordination is still key, but not as crucial as your finger reflexes. Still, Summer Challenge is a lot of fun, especially in multiplayer mode. Highly recommended, especially if you like Winter Challenge or Epyx sports series.

Review 4:

Hmmm, compete in the Summer Olympics. Run, jump, cycle and do some horse torture. A fairly simple game, although I don't think it belongs to the list of great games. The only difference with the game Games: Winter Challenge is that the sports are different.

Well, see for yourself if you get this one or not, but I'm not really impressed by this game, although I seemed to like it when I was young.
Download full game now: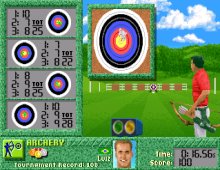 Games, The: Summer Challenge screenshot
People who downloaded this game have also downloaded:
Games, The: Winter Challenge, California Games 2, Games: Summer Edition, The, Games: Winter Edition, The, California Games