Game Downloads
You're located in category:
Minigolf Maniacs
An unfortunate casualty of when Sierra (or more accurately, Havas Interactive) shut down Dynamix in 2001, Minigolf Maniacs is a superb unreleased mini golf game that was 80% complete - less than a month from going gold - when the axe fell down. Thanks to co-ordinated efforts of a group of die-hard fans who have been in touch with the developers, you can now download a fanmade mod from SourceForge that completes the game as well as adds new holes and a number of gameplay improvements.

A spiritual descendant of Dynamix's 3-D Ultra Minigolf and EA's Zany Golf years earlier, Minigolf Maniacs offers 12 wacky cartoony characters, over zany 50 holes with 6 secret mini holes, over 10 power-ups, Hole Editor with over 50 tiles, and 8 game modes. The holes and characters come to live in vibrant 3D graphics, and the interface is very intuitive. Lots of nice touches abound, from the "coinz" you can collect by hitting balls at them, to various power-ups that either help your own game or hurt your opponent's (my favorite are the oil and goo, which makes your opponent slip and stuck on the ground :)) Player characters are the various animals, each of which comes to live in real-time, and is nicely animated in 3D with a wide range of movements and expressions.

The best thing about Minigolf Maniacs, aside from wonderful character designs, is the sheer variety of game modes that you won't find anywhere else. In addition to common competitive modes (stroke, skins, match, and tournament), there is the "speed" mode (player with fastest completion time wins), "coinz" mode (player with highest coinz total wins), and online-only "war" mode (knock your opponents in the Cup to win - my favorite mode). After applying the latest fanmade mod, Minigolf Maniacs is a very enjoyable and addictive wacky golf game that is best played on-line with a few friends, although the off-line games are fun too. Highly recommended!
Download full game now: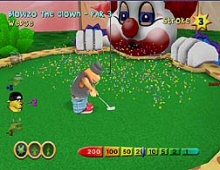 Minigolf Maniacs screenshot
People who downloaded this game have also downloaded:
Minigolf 1Shot, Fuzzy's World of Miniature Space Golf, Hole-In-One Miniature Golf, Mini-Putt, Sim City 2000