Game Downloads
You're located in category:
International Tennis Open
International Tennis Open is a good port of Philip's CD-i game of the same name that sold relatively well on the CD-i but remains unknown on the PC. Billed as a "tennis simulation" (as opposed to an arcade-style game) the game is a fun tennis game that offers excellent multimedia elements including thousands of mini-videos, voice-overs, and dozens of digitized players. You select one of 9 nations to represent, and play singles against a variety of opponents (no doubles play here, unfortunately) in either practice mode, quick match, or tournament. Practice is self-explanatory, quick match allows you to play a quick match against an opponent (chosen from 4 fictional players) and the type of court (concrete, grass, or clay) of your choosing. In tournament mode, you select a host city from around the world and start playing the matches from the quarter-finals upward.

The gameplay itself is fun and easy to control, although like most tennis games, it is often hard to gauge the ball's distance from you. I also find the curved balls very hard to do with joystick and keyboard - presumably they are easier if you have a gamepad. Naturally, player animations (made up of 2D rotoscoped sprites) are not as fluid as polygon-based players in Mindscape's 4D Sports Tennis, but they are more than adequate. The computer player gives a decent challenge in professional mode, and true to its "tennis simulation" billing, the game reasonably models many realistic factors. The ball bounces much higher on a concrete court than grass, for example. Overall, International Tennis Open is a fun tennis game that is hampered by a too-short tournament length and lack of gameplay variety. All computer-controlled players seem to look and play the same, for example, and there is no in-depth record keeping. Recommended.
Download full game now: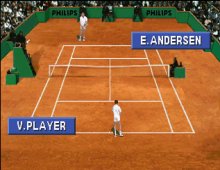 International Tennis Open screenshot
People who downloaded this game have also downloaded:
Games, The: Summer Challenge, Games, The: Winter Challenge, Tie Break Tennis '98, Great Courts 2, 4D Sports Tennis