Game Downloads
You're located in category:
Golf Doctor
Golf Doctor is a neat - and highly obscure - program that was essentially the DOS conversion of John Jacobs' best-selling book of the same name. The book has long been recognized as one of the best golf books ever written. The official blurb: "From tee to green, learn how to quickly cure your swing of the most common faults. John Jacobs, author of the classic Practical Golf, has been called "a great golf teacher" by Jack Nicklaus. In Golf Doctor, he uses his renowned knowledge of the swing to help you identify and correct the twenty-five most common problems that bedevil golfers. Using the flight of the ball as the essential indicator - you have a problem with topping the ball to your right, for instance - you can turn to a clear, concise, and simple lesson that explains the fault and how to banish it forever from your swing. With this master teacher's guidance, you will know what is going wrong and what must be done to correct these and other typical mistakes: shots start on line but then curve to the right, especially with woods and longer irons; shots are frequently topped to the left, while others start left, then slice right on a low trajectory; pitch shots fly on a straight line but to the left of the target, those that do not fly straight are often unusually high and finish well short of the hole; bunker shots are inconsistent, with the ball staying in the sand or flying over the green; putting is generally poor, with longer attempts rarely having the correct distance. Jacobs provides invaluable tips and advice on avoiding wasted strokes, adding length to shots from the rough, playing in crosswinds, and shaping shots around a tree or brush; he also offers insights into getting the most out of your practice and playing with the best attitude for success. Practical and easy to follow, Golf Doctor teaches you to help yourself so that you soon will be striking the ball solidly and consistently. It is almost as good as having your own private instructor."

This DOS version is a very faithful adaptation of the book to your computer screen, including all the most pertinent lessons from the book as well as diagrams. Although it is little more than an early "e-book," Golf Doctor includes animations, search option, and crisp black & white graphics. Recommended for any golfer who is perhaps too lazy to read the entire treatise.
Download full game now: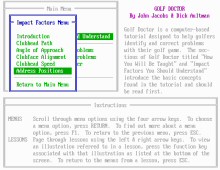 Golf Doctor screenshot
People who downloaded this game have also downloaded:
Greg Norman's Shark Attack! (Greg Norman's Ultimate Golf), PGA Tour Golf, Indiana Jones and The Last Crusade - The Action Game, Zany Golf, Wilson ProStaff Golf