Game Downloads
You're located in category:
Greg Norman's Shark Attack! (Greg Norman's Ultimate Golf)
Greg Norman's Shark Attack! is a good golf game that is surprisingly in-depth for its age (1989). Up to four human or computer players can participate in Strokeplay or Matchplay, with the option of playing Singles, Fourball, Foursome, or Greensome (the last three are various types of four-player, two-against-two games). Although there are only 2 default courses, the game makes up for this shortcoming with dozens of options and realistic factors never before seen in a golf game.

For starters, the skill level of each computer player is determined by a combination of five factors: Experience, Stance, Grip, Swing, and Fitness. These can also be altered for human players to set handicap levels. Up to 50 created players can be stored in a database. You can also change weather conditions, and many more variables in the game. Once you select 3 of the 17 clubs to leave behind (you are only allowed 14 maximum, as per the rules), you pick either of two default courses or others from add-on disks (not included in this download; if you have any, please contact us!).

There are no less options on the course itself. You will be greeted by a first-person perspective view of the hole, and vector-based grid superimposed on polygon graphics to represent different terrain heights. While definitely no match for 3D graphics of today's golf games, the graphics in Greg Norman is excellent for its time. There are trees, water pools, hills, and sand bunkers. You can view the whole hole from a bird's eye view, go to any spot and get a 3D view from that position. An info box indicates the distance to the pin, along with weather conditions and wind speed/direction. If you're playing with a caddy, he will automatically select the appropriate club for you. The caddy will also aim the shot, shown on the swing screen. Here, as well as finetuning the shot direction, you can select the amount of top or backspin, and sidespin (hook or slice). You hit the ball using the typical power meter, and put by aiming the cursor and selecting power. You can use keyboard, joystick, or mouse to play the game.

All in all, Greg Norman's Shark Attack! is an ambitious golf game that succeeds in presenting golf as a simulation - a refreshing approach compared to the typical arcade-oriented approach of most contemporary golf games. While the interface is cumbersome (mostly because you need to go to several screens just to set up the shot you want), there is no denying that Greg Norman's Shark Attack! is a fun and reasonably realistic simulation of golf, an achievement all the more remarkable considering its age. Although it has low long-term play value due to only 2 default courses and no design tools, serious golf fans will at least appreciate the game's in-depth design that is years ahead of time. Highly recommended!
Download full game now: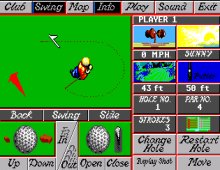 Greg Norman's Shark Attack! (Greg Norman's Ultimate Golf) screenshot
People who downloaded this game have also downloaded:
British Open Championship Golf, PGA Tour Golf, Ryder Cup Golf, Jack Nicklaus Signature Edition, International Open Golf Championship