Game Downloads
You're located in category:
Extreme-G 2
Extreme-G 2 (better known as XG2) is an excellent - and very good looking - sequel of Extreme-G, a futuristic racer for Nintendo 64 that was very successful, but unfortunately never ported to PC. Excerpts from Adrenaline Vault's review say it all about this game:

"This new version is substantially improved over the original, with more types of weapons, more realistic bike handling, a faster game engine -- allowing a better frame rate and higher speed on the tracks -- and reduced fogging effects so you can see further ahead. The just-released PC version of the game reviewed here is a relatively direct port of the [Nintendo 64] console version, with the only enhancement being the full use of the required 3D video acceleration.

Unlike many arcade racing games, Extreme-G 2 actually has a background story. During the 21st century, in the 25 years since the original virtual Extreme-G races, the citizens of the New United Planets have grown bored. So they endeavored to build real G-bikes, and, bolstered by commercial sponsorship, a new breed of riders emerged capable of pushing the vehicles to speeds once reserved for high performance aircraft. The speed, strength and armaments of these bikes soon attracted military interest and the military took control of the races, seeing them as a source of future weapons designs and as a testing ground for battle tactics. These races thus became a central economic, social, political and military feature of this bizarre world. It is in this avant-garde context that you race.

Extreme-G 2 features a wide range of play options. You race on a total of 36 tracks through 12 overwhelmingly beautiful racing environments. What is most amazing is that each of the tracks twist around and change elevation more dramatically than any other course I have ever seen. In these settings, ten futuristic vehicles are available for your use. For game modes, you may choose either Extreme Contest, which is a tournament competition in which you race against other vehicles, or single player, which contains practice, time trials and an odd arcade mode that has as your racing objective shooting moving drone targets rather than going faster than other vehicles. I like the arcade mode quite a bit, as it adds in a way not present in most games of this type, a pure shooter touch to a racing experience. Each vehicle may pick up and use up to 20 different weapons systems. All the bikes come with a transparent shield and a fixed primary weapon called a maxi-bolt. Secondary weapons and pickups that can be obtained include mortar, multiple missiles, homing missiles, rear missiles, leader missiles, static pulses, rail guns, ion sidecannons, rear maxi- bolts, flame exhausts, smoke exhausts, proximity mines, laser mines, magnetic mines, wally warps, phosphor flares, power shields, invulnerability, invisibility and headlamps. Overall, this is a very decent weapons arsenal that is comparable to the best in the genre. The vehicles in Extreme-G 2 are the closest thing I have ever seen to the cycles from my beloved cult classic 1980s movie Tron. There is an irony here, as a code is available for Extreme-G 2 that turns all of the tracks into Tron-like environments in a much more compelling way than in many other racing games that have tried this gimmick. With that code activated, I really feel like I am back inside that movie ready to do battle with the evil Master Control Program.

As I said at the outset, arcade games live or die these days based on the quality of their graphics, and on this basis alone I would have to rate Extreme-G 2 a smashing success. But several gameplay limitations and concerns in other areas keep this offering from becoming as groundbreaking as it should have been. Nonetheless, I am so mesmerized by the high speed and splendid visuals that I keep coming back again and again to play this one." Too bad there is no multiplayer option in the game (unlike the Nintendo 64 version) - but if you are a fan of Tron fan or pretty racing games in general, there is a lot of fun to be had in this solo-player game. Highly recommended!
Download full game now: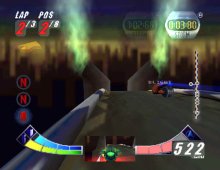 Extreme-G 2 screenshot
People who downloaded this game have also downloaded:
Dave Mirra Freestyle BMX, Wipeout XL (a.k.a. Wipeout 2097), Rollcage, Nightmare Creatures, F-Zero