Game Downloads
You're located in category:
4d b
Arguably THE best action-oriented boxing game ever made for the PC, 4-D Boxing is a revolutionary sports title from Distinctive Software that does to the boxing genre what Stunts does for racing. Trixter in his review at MobyGames says it all about this game:

"No other PC game has captured the feel of boxing as well as 4-D Boxing.

The Good:

The 3D engine in 4-D Boxing was not a gimmick; at the time, it truly was a whole new way to simulate boxing in a computer game. The camera wasn't fixed--you could play through the eyes of your boxer, from ringside, from a fixed isometric view, overhead, whatever. You could even play through the eyes of your opponent. It's a real trip to stare yourself in the face as you beat "yourself" up. The moves were rotoscoped fairly well, leading to life-like movements, swings, hooks, and uppercuts.

The Bad:

Dialing down the detail to a ludicrously low level (stick figures without heads) was the game's idea of "running acceptably on an 8088". I had a 386, so I was fine, but it made playing the game against a friend difficult if your friend had a slow machine. The price we pay for innovation... While most of the moves looked realistic, jabs were oddly unrealistic. It was rediculously easy (although quite fun) to beat the computer in the first ten or so matches by swinging non-stop roundhouse right and left hooks to the face. (And disturbingly satisfying to hear each punch land. :-)

The Bottom Line:

4-D Boxing had a feel that no other computer boxing game has captured since, even 8 years after it's release. While there have been a few console boxing games that come close (including one for 3DO that was heavily influenced by 4-D Boxing), nothing satisfies the need to box like 4-D Boxing. And it runs great on modern machines, so try to pick up a copy."
Download full game now: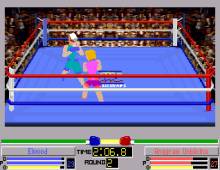 4d b screenshot
People who downloaded this game have also downloaded:
4D Boxing, TV Sports: Boxing, Micro League Wrestling 2, 3D World Boxing, World Championship Boxing Manager