Game Downloads
You're located in category:
Micro League Wrestling 2
One of the best wrestling games ever made, Micro League Wrestling 2 features real WWF stars such as Hulk Hogan and some of the greatest competitors of the WWF. Each wrestler's famous moves are all here and look very authentic, such as Hulkster's body slam and fatal leg drop. The graphics, although grainy, is adequate, and the digitized photos of wrestlers and their moves work well to enhance the atmosphere. Here's your chance to play Randy "Macho Man" Savage and Paul "Mr. Wonderful" Orndorff.

True to Micro League's pedigree as developer of solid sport simulations, MLW 2 is not an eye-hand coordination game. You have to carefully plan your moves, and monitor factors such as power and damage in each match. The game even includes many "extras" that will please wrestling fans, such as live interviews with "Mean Gene" Okerlund, and ringside commentary by Vince McMahon and Jesse "The Body" Ventura. WWF fans will definitely enjoy this trip down memory lane, as many of the WWF wrestlers of the late 80s appear in this game. You can even play against a friend in two-player hotseat mode. With authentic moves, competent computer AI, and great atmosphere, MLW 2 is a must-have for all wrestling fans. Highly recommended!
Download full game now: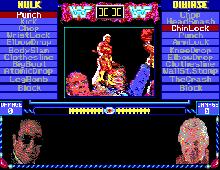 Micro League Wrestling 2 screenshot
People who downloaded this game have also downloaded:
Micro League Football 2, WWF: Wrestlemania, WWF Wrestlemania: The Arcade Game, Micro League Baseball 4, 4D Boxing