Game Downloads
You're located in category:
Lotus 3
Review 1:

Lotus 3 is one of the best racing games i have ever had the pleasure of putting my hands on; it is simply an outstanding game, but let's go on with order. In this game you can choose beetween three monsters of cars, all of them are real models, from the english Lotus, and each of them acts quite differently from the other two. I.E.:the Lotus Esprit is the fastest, but the least maneuvrable. One of the greatest thing this game has, anyway, is the "random track generator", wich lets you drive on almost infinite tracks, created one after another by the game's script.

Talking about the simulation itself, you may drive a single race, or a whole championship, it is your choice, and the tracks themselves are quite different, in one ther will be, for instance, a windstorm, and your car will have much less control; in another one you will race during a storm, and you'll find fallen trees on the road, or rocks, or pools of water wich will alter the handling of your car, truly a masterpiece this one.

Graphically the game's very good, and at the very least "sufficent" even for today's standards; the outstanding music only does her part in raising this game well above the others made during and a long while after that year.

Review 2:

Third part of Magnetic Fields' great arcade-style racing game series - the only one converted to the PC. And what a great conversion it is. Really refreshing! Although the last part of the series is the worst in my opinion. The most obvious new feature of the game is a track generation system called RECS. Never liked that one a lot, but it's very easy to create different tracks with it.

Obviously the developers were very enthusiastic about it, as they said in the manual: "The most startling addition, however, is the stunning RECS system, which will give you access to a practically infinite number of different tracks. [...] It's straightforward, easy and instant-and like all the features of the earlier Lotus games, it's so good that other software houses will be featuring it in their games in about six months time." Hehe, I don't recall any game that used the system later on ;) Lotus III doesn't work on my PII, but runs fine on my old 486SX, so you may need to tweak fast machines a bit to play this one (see FAQ for more details).
Download full game now: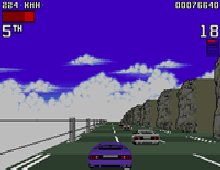 Lotus 3 screenshot
People who downloaded this game have also downloaded:
Wing Commander: Academy, Test Drive 3: The Passion, Top Gun: Fire at Will, Test Drive, Lotus Esprit Turbo Challenge 2