Game Downloads
You're located in category:
Free Combat
Outstanding freeware gem by John Nyman that is not very (read: not at all) well-known. Free Combat is a cool top-down combat simulation with a great feature not seen in any other game: a realistic line of vision. In the tradition of Twilight 2000, the game casts you as a hired gun fighting for the all-powerful Mercenary Organization. Your job is to accomplish a wide variety of missions ranging from hostage rescuing, item retrieval, assassinations, and more. The game is a tactical-scale, real-time simulation with realistic equipment data and damage system.

There are many cool features in Free Combat that elevate it far above arcade-style shoot-to-kill games on the market. In addition to being limited to a realistic line of sight, you can sneak, walk, or run, and change your position to prone, crouch, or normal (standing). Similar to Jagged Alliance, the position affects the accuracy of your shot, as well as the likelihood of being spotted by enemies. Walking surface and move speed are important, as well: sneaking around in grass is much better to avoid detection than running on asphalt.

There are multiple skills for both your character and enemies, and wounds affect accuracy and moving speed. In another nod to Jagged Alliance, you will bleed to death until wounds are tied. You can play campaigns or individual missions, and dozens are included at the moment with more on the way. The game even includes a nice mission generator so you can create your own missions. The only gripe I have with the game is that you have to memorize a lot of keystrokes, although they are all re-programmable and the manual is very thorough. Overall, an excellent effort that is much better than many commercial titles, and well worth a look by fans of Jagged Alliance and similar realistic combat games.
Download full game now: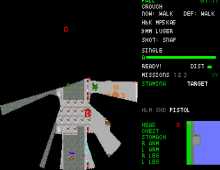 Free Combat screenshot
People who downloaded this game have also downloaded:
Gold of the Americas, Fleet Starship Tactical Combat Simulator, American Civil War: From Sumter To Appomattox, Archimedean Dynasty, Command Aces of The Deep