Game Downloads
You're located in category:
American Civil War: From Sumter To Appomattox
Arguably the best simulation of the American Civil War ever made, The American Civil War: From Sumter to Appomattox is the third incarnation in Frank Hunter?s Road from Sumter to Appomattox series that his company Adanac first published in 1993.

Fortunately, the idiom ?the third time is the charm? holds to this game. The game retains the excellent military, economic, and diplomatic models of the first two games, with a significant improvement in user interface (although it remains far from user-friendly) and graphics. The range of scenarios and options is probably the best ever seen in games about the Civil War, although the lack of tactical module is slightly disappointing. Interactive Magic, the original publisher, also added a lot of multimedia elements (pictures, etc.) to fill up the CD-ROM space, and these are quite nice although they don?t add much to the gameplay. Overall, if you are a history buff with even a passing interest in the subject, this is a must-have. Veteran wargamers who prefer the tactical scope (e.g. Norm Koger?s or Gary Grigsby?s games) may want to try SSG?s Decisive Battles in American Civil War series and SSI?s Civil War games instead for their tactical fix. Shame about the cumbersome user interface, though.
Download full game now: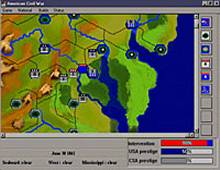 American Civil War: From Sumter To Appomattox screenshot
People who downloaded this game have also downloaded:
Civil War Generals 2, Aces of The Pacific, Panzer General for Windows 95, Sim City 2000