Game Downloads
You're located in category:
Flight Light
Flight Light by subLOGIC is a solid civilian flight simulator that isn't on par with the company's acclaimed ATP series in terms of realism, but achieves its goal of introducing newcomers to the world of flight simulation.

The reasons behind the game's relative obscurity even among die-hard flight sim community is worth mentioning. In 1988, Microsoft and subLOGIC had a nasty legal fight over who owns the copyright to codes for Microsoft Flight Simulator (the entire series (1-4) of which were coded by subLOGIC programmers). Not surprisingly, subLOGIC lost the battle, and was therefore forced to rewrite its codes from scratch for any future sims that are unrelated to Microsoft's series. After five long years of the painful, code-rebuilding process, Flight Light emerged as the first subLOGIC's self-published release to boast new, improved codes, featuring VGA graphics, strong flight dynamics, and a plethora of options that subLOGIC fans are familiar with.

So how does it play? Very well indeed. You can only fly the Cessna jet in the game, but since the game is geared toward beginners, the lack of variety isn't relevant (you'll be spending most of your time trying to memorize the various acronyms anyway). Your job is to finish a series of increasingly challenging flight assignments. For each assignment, you are rated in the categories of navigation, aumanship/safety, and efficiency. Your score in each category can range from 0% (very poor) to 100% (no de-ratings). These three scores are then averaged to give you a final composite score. subLOGIC's hallmarks—huge, comprehensive manuals—are all here. Similar to ATP, Flight Light includes a very detailed map (which I'll scan for the site soon) and a "Quick Reference Handbook" that contains clear, step-by-step instructions for every assignment. The graphics are crisp in VGA, and boasts a nice array of buildings, trees, and other ground objects.

Overall, Flight Light is a great introductory game for anyone who's interested in flight sims but was intimidated by other sims. You can even convert Microsoft Flight Simulator scenery files for use in the game.

Note: The download here is the improved version of the original 1994 release called Flight Light Plus, published by Sierra in 1995, shortly after subLOGIC was acquired by Sierra. This version features 3 extra planes and scenery. Also, fans should check out Sierra's Pro Pilot-- probably the last game ever coded by subLOGIC team.
Download full game now: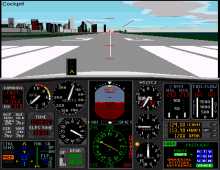 Flight Light screenshot
People who downloaded this game have also downloaded:
Flight Unlimited 2, Flight Assignment: A.T.P. (a.k.a. Airline Transport Pilot), Airline Simulator 97, Microsoft Space Simulator, F-15 Strike Eagle III